S
an Quentin Prison, perched on the northern edge of San Francisco Bay, looks and feels like a medieval castle with turrets, stone ramparts, large gates and guard towers. Few inmates ever get the opportunity to appreciate the picturesque view across the water to rolling hills, the Richmond Bridge and bayside cities. Built in 1852, California's oldest prison features the state's only death row for 675 "condemned" prisoners. San Quentin was designed for a capacity of 3,300 inmates but currently holds more than 5,200 with the accompanying overcrowding, competition for services and tension. Of these, about 90 identify as Native American, although the actual number is hard to determine. While people of color make up 30 percent of the population of the U.S., they represent 60 percent of those incarcerated.
Last July, the Native American inmates organized a long-anticipated Pow Wow. On that day, I waited with about seventy-five people for two hours at the front gate of the prison to be allowed entrance. Each of us had submitted our personal information to prison administrators weeks in advance for background checks. The guard at the gate, distracted with his other duties, slowly checked our names against an official roster. The visitors consisted of relatives and friends of the inmates, Pow Wow drummers, singers and dancers, and volunteers from the San Francisco Friendship House. I came with some of my students from San Francisco State University. Many of the visitors were dressed in regalia and conversed with each another as they eagerly waited to see their loved ones.
Brent MacKinnon, a tall, fit man with chiseled features, collected everyone's driver's license and attempted to expedite the process by which the guard checked our names against the official list. I first met Brent when he reached out to Bay Area educational institutions recruiting participation in the regularly scheduled Native American group meetings at the prison. Brent is a "brown card" holder — an official San Quentin volunteer. He takes a personal interest in dozens of prisoners helping to provide them with pro bono legal representation to seek parole, assisting them with enrollment in reentry programs and to obtain housing and employment. Brent was responsible for raising the funds for last year's and this year's Pow Wow with the assistance of the Wakan Community of Marin County and the Jackson Rancheria Casino. Brent facilitates the veterans group at the prison with guided discussions, meditation and a curriculum that he developed to address post-traumatic stress disorder (PTSD), a model that has been used internationally. Brent is a Vietnam veteran who discovered the insanity of the war while in the midst of it, and lived among the Vietnamese, taking refuge with the people he came to subdue.
He suffers from the same syndrome that he has helped so many others heal from, and his work with the San Quentin veterans, many of them native, has seen profound results. After meeting with Brent and learning more about the program, I agreed to volunteer.
After signing in once again, each of us passed through a metal detector and waited in a locked holding cell to be escorted by a guard. When we finally entered the visiting room, we were greeted by fifty beaming inmates who hugged their relatives and friends and enthusiastically welcomed the visitors. Jun Hamamoto, another "brown card" volunteer, was assisting the men prepare for the visitors. An inmate with tattoos climbing up his arms to his neck tenderly embraced his mother who devotedly kissed his cheeks, forehead and hands. This kind of intimate exchange was occurring all throughout the room. The prisoners had prepared a feast for their guests and proudly served up a meal of fry bread and all the fixings for an Indian Taco — ground meat, beans, cheese, lettuce, tomatoes, onions, chilies and salsa. The menu also included baked salmon, coleslaw, apple pie, ice cream and lemonade.
The Pow Wow began with a Grand Entry with everyone moving in a slow procession around the room to the sound of two pounding drums, each with four singers comprised of both visitors and inmates. One of the older prisoners with long gray hair was flanked by his sister and mother; another paraded with his girlfriend; another held hands with his father and brother; a look of pride on the inmate's faces. The prisoners made key chains, beaded feathers, dream catchers, bracelets and necklaces in their crafts classes and laid them out for display before gifting them to their guests. Gill (Tongva) and his wife of forty-two years sat face-to-face in intimate conversation, sharing a plate of food held between them, oblivious to the rest of the room. Many of the inmates I had gotten to know introduced their relatives to me and asked, as they do each time I visit, if I would be coming again.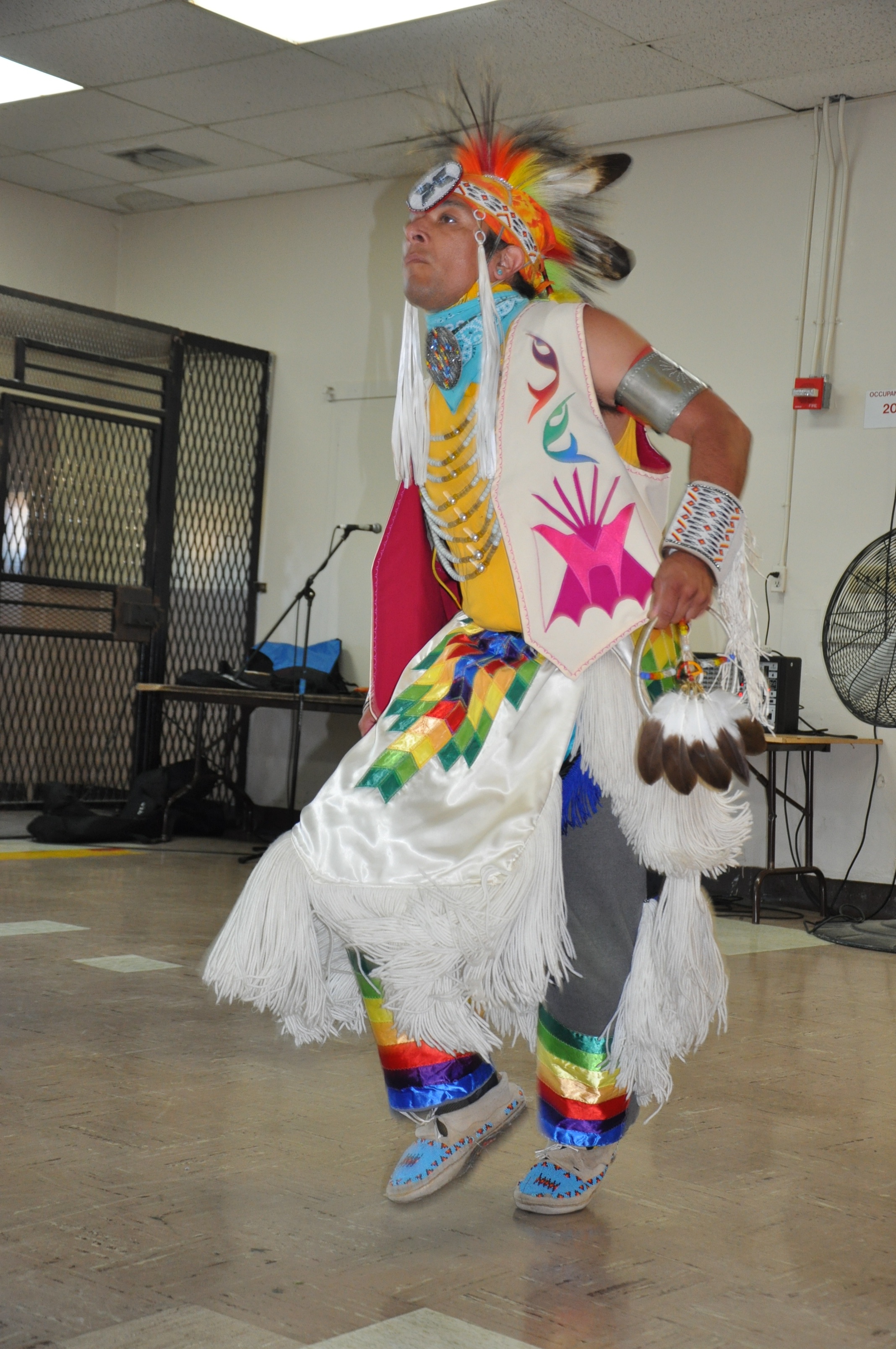 Traditional artist and educator Eddie Madrill (Yaqui) performed the Hoop Dance in full regalia. To the beat of the drums, he delighted the group with deft moves climbing in and out of the hoops, wearing them like wings and then gathering them into a woven globe. Some of the inmates danced with enthusiastic whoops and fancy moves, while others slowly marched around the room. When the MC announced a song to honor Leonard Peltier, long incarcerated for the alleged murder of an FBI agent at Wounded Knee in 1973, the inmates sang with an intense and poignant power. Hector Heredia (Apache) is the prison's chaplain to the American Indian inmates. He serves as their support system, interfaces with the prison administration and provides spiritual advice. Hector is a long time advocate for religious freedom for inmates and was instrumental in gaining permission for the first Sweat Lodge in the state prison system at San Quentin in 1978. The sacred ground for the prison's "Fire Place" was blessed by Shaman Archie Fire Lame Deer. During the Pow Wow, Hector encouraged everyone to "keep the faith" and maintain close relationships with family, friends and their tribal communities.
The United States incarcerates more people than any other country on earth, with over 2 million adults in prison, and many millions more under correctional supervision. One in every 15 African American men and 1 in every 36 Latino men are in prison as compared to 1 in every 106 white men. Most are imprisoned on drug charges due to draconian laws, racial profiling and mandatory sentences as part of the "war on drugs." According to Human Rights Watch, although people of color use or sell drugs at the same rate as whites, they experience significantly higher rates of arrest. Fueling this mass incarceration is big business as companies such as the Corrections Corporation of America and Wackenhut Corrections Corporation win huge lucrative contracts to incarcerate Americans as part of what has been termed the "prison industrial complex." Today's U.S. prison population has grown over 700 percent over the last 40 years and the average length of prison sentences has increased by 36 percent in the last 20 years. According to the U.S. Department of Justice, if recent incarceration rates remain unchanged, an estimated 1 out of every 20 persons, or 5 percent of the population, will serve time in a prison during their lifetime.
There are about 65,000 Native Americans currently under correctional supervision (incarceration, probation or parole) representing approximately 4 percent of the total adult prison population although native people make up slightly over 1 percent of the county's adult population. One out of every 200 American Indian adults is convicted of a felony crime, compared to one out of every 300 white adults. Native Americans are overrepresented in the prison system for many reasons including: poverty, alcoholism, unemployment, racial profiling, lack of access to health care and drug rehabilitation services, inadequate legal representation, discrimination in sentencing, social destabilization from a history of forced removal and relocation, a lack of educational opportunity, and the myriad of problems associated with the unique legal status of America's indigenous peoples. Since crimes committed on reservations fall under federal jurisdiction, Native Americans serve longer sentences for the same crimes committed by non-Indians.
San Quentin is distinguished with a number of programs not found in many other correctional facilities including: occupational training programs that focus on new technologies; a performing drama workshop; a program that involves inmates interacting with troubled youth to encourage them to avoid prison; organized sports including baseball games with visiting teams; the Prison University Project; anger management programs; the California Reentry Program designed to discourage recidivism and prepare inmates for life outside of the prison walls; peer health education and suicide prevention programs; a Back to Family Program; veterans groups; Christian, Muslim, and Jewish associations; restorative justice and victim/perpetrator reconciliation programs; and insight meditation workshops. The San Quentin News is the only prison newspaper produced by inmates in California.
When I visit with the group on Thursday nights, I bring films, native music, art and poetry, and discuss American Indian history and law. Some of the most powerful evenings with the forty or so men in blue have been when they have shared their personal stories revealing intense feelings, potent memories, profound regret and deep longings. The group meets in one of the small rooms off the interior courtyard past the severely manicured hedges and incongruous water fountain.
Their gatherings begin with a prayer by one of the elders, followed by a smudging ceremony. Vance (Blackfoot) approaches each of the inmates in the circle with an abalone shell with a burning bundle of white sage offered as a cleansing prayer.
He breathes fire into the sage as he approaches each inmate who bathes himself with the white smoke, waving the swirling cloud around his head, heart, arms, body, legs and feet, and then clasps Vance's forearm in a gesture of camaraderie and thanks.
A traditional Lakota song is offered by Pee Jay, a Cambodian who is an accepted member of the group. Many of the inmates close their eyes as they sing with calm concentration. White Eagle AKA Whitey (Comanche), sentenced to seven years to life, comports himself with a quiet and dignified demeanor. He is a respected elder with the authority of his years behind bars and serves as a model of quiet self-possession. He has long chestnut brown braids that meet his waist. Whitey takes a flute out of a leather sheath and plays a slow and reaching melody.
Tony (Kumeyaay), Vance (Blackfoot) and Yana (Tsalagi) are three inmates with special privileges who organize activities for the other native prisoners. They work out of a closet-sized office inside the prison courtyard. On the wall is a large American flag featuring a native warrior on a field of stars and stripes. An image of the Apache warrior Geronimo appears on a poster with the words "As Far as I'm Concerned, You're All Illegal Aliens." Books and magazines about American Indian history and art crowd the bookshelves.
During one of the group meetings, Tony spoke about how he endured solitary confinement for refusing to cut his braids. He told us that, "my braids are my prayers, they make me an Indian, they remind me of my home, they are my power, and I refuse to cut them." Brent informed me that Tony had never shared this story before and that his show of vulnerability helped to free many of the inmates' voices leading to a moving evening of personal testimonies. Advocacy for religious rights for the incarcerated has a long and tortuous history of court cases fought state-by-state, and access to medicinal herbs, traditional drums and opportunities for ceremony is granted or denied at the whim of the warden. Inmate advocacy was an important factor in the passage of the American Indian Religious Freedom Act of 1978 and the subsequent Religious Freedom Restoration Act of 1993 and Religious Land Use for Institutional Persons Act of 2000. Successful legal challenges in California now allows Native Americans, Rastafarians and Sikhs to retain their hair as part of their religious rights at some prisons, as well as access to spiritual rituals such as Pipe Ceremonies and Sweat Lodges. Albert (Pitt River Nation) describes the importance of ceremonies to the group: "Our Sweat Lodge brings us together. It makes me feel close to these guys and when we go out among the other races in the prison, we show them that we care about each other. We want to be role models for other inmates about how to act toward each other."
Storytelling is an integral part of Native American culture and oral tradition. As a consultant to The Cultural Conservancy, a non-profit indigenous rights organization dedicated to the preservation and revitalization of endangered stories, songs, languages and ancestral lands, I worked with a team of filmmakers, web designers and colleagues on the Circle of Stories web site for the Public Broadcasting System. The site features four traditional storytellers: Corbin Harney (Western Shoshone), Rosella Archdale (Lakota), Hoskie Benally (Dine) and Tchin (Narragansett). Filmmakers Jillan Spitzmiller and Hank Rogerson created a film based on the web site narrated by The Cultural Conservancy's executive director Melissa Nelson (Anishnaabe/Metis/Norwegian). As we broadcast the film one evening, I searched the faces of the inmates illuminated by the small video screen. They were especially engaged with the segment entitled "How Rabbit Got Its Ears" as performed by Tchin before an audience of children filmed at a cultural center. Hunched over in their folding chairs in rapt concentration, the inmates responded with simple delight as Tchin sprinkled the stage with confetti hidden in his sleeve with a sweeping gesture to manifest the snow, and sent colorful streamers into the air to call forth the rain.
After a few months of meetings, the inmates asked if I could help them obtain the materials to repair the drums they used at Pow Wows and ceremonies. They requested elk skins and lacings and I contacted Richard Flittie, a Lakota traditional drum maker, who provided the specially prepared materials. I sent out a request to friends and colleagues for help with purchasing the skins and the response was immediate and generous. Richard joined me for a group meeting at the prison where he demonstrated how to repair the drums and recounted his participation in the Sun Dance and other sacred rituals. The inmates were very grateful to Richard and all the donors for the ability to revive their drums. Quinn (Maidu) said, "Thank you for this gift, but we don't just want things, we want to give back. We have made some very serious mistakes. We want a chance to be of service in here, and when we get out." For a good portion of the rest of the meeting, the inmates passed around their one, well-used hand drum and sang songs from different native traditions.
The inmates signed a thank you card with short notes for the donors. Gray Fox (Big Valley Pomo), a cancer victim waiting for compassionate release, wrote:
First and foremost, I would like to thank all of you who have brought the blessing of this heartbeat back to our circle as we pray everyday for all the people in the free world and those who are locked up. May the blessings of these hides be for everyone.
—All My Relations, Gray Fox
The Supreme Court has determined that "convicted prisoners do not forfeit all constitutional protections by reason of their conviction and confinement in prison." According to a study by the Navajo Nation Corrections Project, recidivism among American Indians is dramatically reduced by participation in traditional religious ceremonies. Cultural and spiritual sustenance has been shown to contribute to inmates' self-esteem, and dignity. Native teachings promote condolence, a path toward empathy essential for the rehabilitation of those who have transgressed against moral principles leading to harm to others. A society that endeavors to teach the value of the rule of law must demonstrate this by affording First Amendment rights to prisoners, within the legitimate concerns of safety and security in correctional facilities.
As I look around the room, I count the years each of these inmates had served or were bound to serve behind bars: 28 years, 32 years, 26 years, 42 years, 22 years, 16 years, 27 years – lifetimes — and although I realize that their crimes robbed others of their precious lives, no matter the circumstances, and caused great pain for their families, I could not help but question the purpose of keeping these men in jail for decades without a way out. Through my volunteer work at San Quentin, I am convinced of the importance of helping inmates make connections to traditional teachings, providing them the religious freedoms guaranteed by the constitution, facilitating the bond with their tribal communities and families and allowing them to experience the benefits of their spiritual foundations.
[1] California Department of Corrections and Rehabilitation web site www.cdcr.ca.gov
[2] Sources: American Civil Liberties Union, Center for American Progress, Human Rights Watch, The Justice Policy Institute, U.S. Department of Justice and U.S. Bureau of Prisons
[4] www.pbs.org/circleofstories
[5] Bell v. Wolfish, 441 U.S. 520, 545 (1979); see also Pell v. Procunier, 417 U.S. 817, 822 (1974)
[6] "The Struggle to Protect the Exercise of Native Prisoners' Religious Rights," by Sharon O'Brien in Indigenous Nations Studies Journal, Fall 2000.