Agave Harvest, Part 1
Agave Harvest, Part 1, Malki Museum, 11795 Malki Rd., Morongo Reservation, Banning. The Agave Harvest and Roast is an annual event held on two consecutive Saturdays in April, when the agave plants were traditionally gathered. The agave, or amul, was a basic food staple for the Cahuilla and Kumeyaay Indians of Southern California. $10 donation appreciated. For more info, visit www.malkimuseum.org or call (951) 849-7289.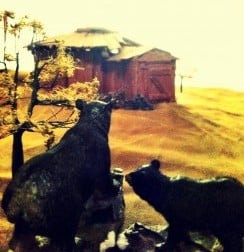 Are you planning a California Indian event that should be on our calendar?
Listings are free. Items for the next issue may be submitted to:News from Native California,
P.O. Box 9145, Berkeley, CA 94709
Email: events@newsfromnativecalifornia.com
Phone: (510) 549-1208
Fax (510) 549-1889
Or use our online for to submit an event: