We strive for accuracy in all of our listings, but despite our best efforts and good intentions, errors do happen. You should always verify dates, times, and locations by calling the numbers listed or visiting their websites.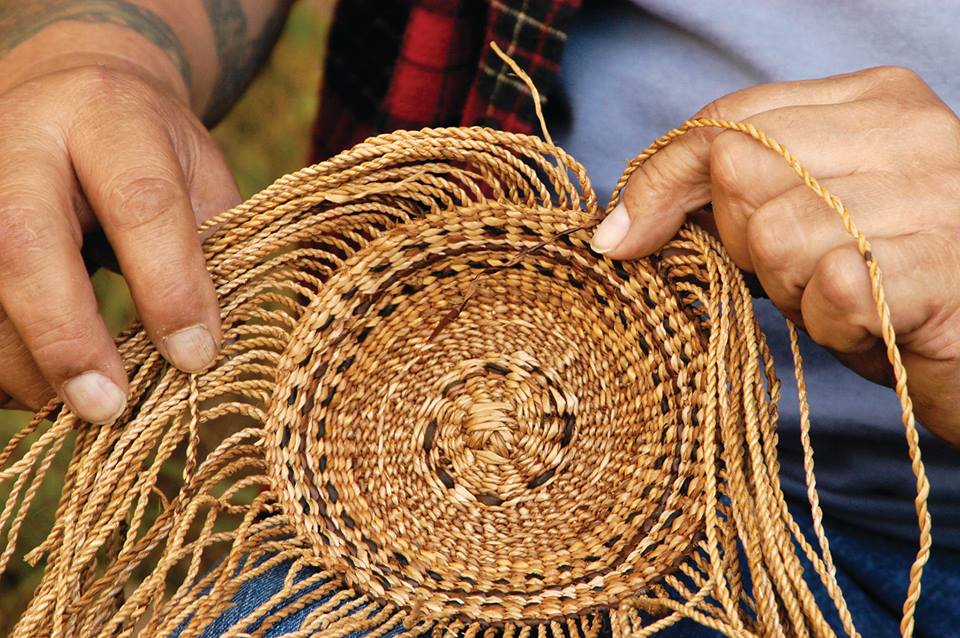 The cultural institutions below host ongoing classes, lectures, and meetings.
Agua Caliente Cultural Museum
219 S. Palm Canyon Drive, Palm Springs, CA 92262 Wednesday through Saturday (10:00 a.m. to 5:00 p.m.), Sunday (Noon to 4:00 p.m.) Free. (760)323-0151.
$5 adults, $3 students and children
American Indian Airwaves Radio
Broadcast every Wednesday afternoon, 3:00 to 4:00 p.m., on KPFK, 90.7 FM in Los Angeles, 98.7 FM in Santa Barbara, and online at www.kpfk.org
American Indian Art and Gift Shop
241 F Street, Eureka. Mon. to Sat. 10:00 a.m. to 6:00 p.m. (800) 566-2381 or www.ncidc.org/gifthome
Antelope Valley Indian Museum
Avenue M between East 150th & 170th streets, Lancaster. Saturday and Sunday, 11am to 4pm. $3 adults, children under 12 free. (661) 942-0662. www.avim.parks.ca.gov
Barona Cultural Center and Museum
1095 Barona Rd., Lakeside. Tues. to Fri. noon to 5:00 p.m., Sat. 10 a.m. to 4 p.m. School and group tours available. Museum of the Barona Band of Mission Indians. Free, donations accepted. (619) 443-7003, ext. 219, www.baronamuseum.org
Bay Native Circle
Radio broadcast every Wednesday afternoon, 2:00 p.m., on KPFA, 94.1 FM in the Bay Area, and KFCF, 88.1 FM in Fresno.
Cabazon Cultural Museum
84-245 Indio Spring Pkwy., Indio. Wed. to Sat. 9:00 a.m. to 5:00 p.m., Sun. noon to 5:00 p.m. Exhibits on the Cahuilla Indians, the Coachella Valley, and the Cabazon Tribe. Free. (760) 342-2593.
California Indians: Making A Difference, The California Museum
1020 O St., Sacramento. Mon. to Sat., 10:00 a.m. to 5:00 p.m.; Sun., noon to 5:00 p.m. Adults $8.50, seniors (65+)/college students $7.00, youth (Age 6–13) $6.00, 5 and under free. Permanent exhibit. Utilizing the voice and experiences of a diverse California Native Advisory Council, the exhibition highlights the unique contributions of the state's Native peoples and represents more than 150 tribes from across the state. (916) 653-7524.www.californiamuseum.org
California State Indian Museum
2618 K St., Sacramento. Daily 10:00 a.m. to 5:00 p.m. Exhibits feature California Indian traditions, arts, and skills, as well as works by contemporary California Indian artists. $3 adults; $2 youths (6–17); free for 5 and under. (916) 324-0971.
Cantor Arts Center
328 Lomita Dr., Stanford. "Living Traditions: Arts of the Americas" features work from diverse Native American peoples and times. Wed. to Sun. Free. (650) 723-4177 or museum.stanford.edu
Cham-Mix Poki' (House of Our Culture)
23904 Soboba Rd., San Jacinto. Cultural resource library and exhibits of material culture and pottery. Mon. to Fri. 8:00 a.m. to noon, 1:00 to 5:00 p.m. (951) 654-2765, ext. 233.
Chaw'se Indian Grinding Rock State Historic Park
14881 Pine Grove-Volcano Rd., Pine Grove. Basketweaving demonstrations, second Saturday of the month. Hours: Thursday through Monday, 11:30 a.m. to 2:30 p.m. (209) 296-7488.
Children of Many Colors Native American Intertribal Powwow
All drums and dancers welcome. For more information, call (805) 217-0264
Clarke Historical Museum
240 E St., Eureka. Exhibits of Yurok, Karuk, Hupa, Tolowa, and Wiyot basketry and regalia. Wed. to Sat. 11:00 a.m. to 4:00 p.m., first Saturday of every month 6:00 to 9:00 p.m. Free. (707) 443-1947.
C.N. Gorman Museum
University of California, Davis. 1316 Hart Hall, 1 Shields Ave., Davis. Mon. to Fri. noon to 5:00 p.m., Sun. 2:00 p.m. to 5:00 p.m. Free. (530) 752-6567 or gormanmuseum.ucdavis.edu
deYoung Museum
50 Hagiwara Tea Garden Drive, San Francisco, CA 94118 United States Tuesday–Sunday, 9:30 a.m. to 5:15 p.m..
Gatekeeper's Museum and Marian Steinbach Indian Basket Museum
130 West Lake Blvd., Tahoe City. May–September, Wed. to Sun. 11:00 a.m. to 5:00 p.m.; October to April, weekends 11:00 a.m. to 3:00 p.m. Baskets by Washoe weaver Dat-so-la-lee. Admission $3 adults, $2 seniors, $1 children, children under five and members free. (530) 583-1762 or www.northtahoemuseums.org
Grace Hudson Museum
431 South Main St., Ukiah. Exhibits on Pomo Indian baskets and other local history and culture. Wed. to Sat. 10:00 a.m. to 4:30 p.m., Sun. noon to 4:30 p.m. Free. (707) 467-2836.
Haramonkgna American Indian Culture Center
Red Box Fire Station and Visitor Center, Star Rte., La Cañada. Celebrations of Native American culture and history with guest hosts. Saturdays 10:00 a.m. to 4:00 p.m. (626) 449-8975.
Indian Time
Radio broadcast every Thursday evening, 5:30 to 6:30 p.m., on KUCR, 88.3 FM in Riverside.
Jesse Peter Native American Art Museum
Santa Rosa Junior College, Bussman Hall, 1501 Mendocino Ave., Santa Rosa. Mon. to Fri. noon to 4:00 p.m. Emphasis on California cultures, featuring different artists each month. (707) 527-4479.
Kumeyaay-Ipai Interpretive Center
13104 Ipai Waaypuk Trail (formerly Silver Lake Dr.), Poway. Sat. 9 a.m. to 11:30 a.m. (858) 668-1292.
Kuruvunga Springs State Historic Indian Village Site Public Tour
On the campus of University High School, 11800 Texas Ave., West Los Angeles. First Saturday of the month, 10:00 a.m. to 1:00 p.m. Free. (310) 397-0180.
Maidu Museum & Historic Site
1970 Johnson Ranch Dr., Roseville. Tuesday to Saturday 9:00 a.m. to 4:00 p.m., third Saturdays 6:00 to 9:00 p.m. Historic site tours Saturday 10:00 a.m. and 1:00 p.m. $4.50 adults, $4.00 children, $16 families. Free for Native Americans. (916) 774-5934.
February 21 – May 11 – Let's Fix Our World, by Charley Burns
Through April 13 – Indians, Irony, and Identity
Maidu Nation Station and MTNP
Radio broadcast every Tuesday, 4:00 to 5:00 p.m., on KRBS, 107.1 FM in Oroville, and online at www.radiobirdstreet.com
Marin Museum of the American Indian
2200 Novato Blvd., Novato. Tues. to Sun., noon to 4:00 p.m. (415) 897-4064 or www.marinindian.com
Mariposa Museum & History Center
5119 Jesse St., Mariposa. Daily 10:00 a.m. to 4:00 p.m. Suggested donation $3 for adults. (209) 966-2924.
Metate
Radio broadcast covering Native American public affairs; hosted by Robin Carneen. Every third Thursday, 7:00 to 8:00 p.m., on KZYX, 90.7 FM, Mendocino County; www.kzyx.org
Mendocino County Museum
400 E. Commercial St., Willits. Wed. to Sun. 10:00 a.m. to 4:30 p.m. Exhibits on Pomo baskets and basketweavers. Free. (707) 459-2739.
Northern California Flute Circle
Native American Flute concerts and workshops. Please visit the website for times and locations. (530) 432-2716 or www.naflute.com
Pacific Western Traders
305 Wool St., Folsom. Wed. to Sun. 10:00 a.m. to 5:00 p.m. Native American arts, books, recordings, videos, and Pendleton blankets. (916) 985-3851.
Phoebe A. Hearst Museum of Anthropology
University of California, Berkeley, 103 Kroeber Hall, Berkeley. Wed. to Sat. 10:00 a.m. to 4:30 p.m., Sun. noon to 4:00 p.m. Free admission; docent tours $5, $2 for children under 18. (510) 643-7649 or hearstmuseum.berkeley.edu
Pomo Honoring Month Sebastopol. A variety of arts exhibits, storytelling, dance performances, school programs, and other events to celebrate and honor the Pomo Indians.
Visit www.pomo-honor.org or email sandoak@pomo-honor.org for a full listing of events.
Santa Barbara Museum of Natural History
2559 Puesta del Sol Rd., Santa Barbara. Daily 10:00 a.m. to 5:00 p.m. Ongoing Chumash basket exhibit. Admission $5–$8, free to all Native American Indian people on request. (805) 682-4711.
Satwiwa Native American Culture Center
4126 Potrero Rd., Newbury Park (Santa Monica Mountains National Recreation Area). Events every Sunday 10:00 a.m. to 5:00 p.m. (310) 455-1588.
Siebler & Root's Native American Trading Co.
5242 West Side Rd., Redding. Art, jewelry, basketry materials, more. Basketry classes every Friday, 10:00 a.m. to 2:00 p.m. (530) 247-4248.
Sierra Mono Indian Museum
Roads 225 and 228, North Fork. Tues. to Sat. 9:00 a.m. to 4:00 p.m. $3 adults, $2 seniors, $1 students. (559) 877-2115.
Southwest Museum
234 Museum Dr., Los Angeles. Exhibits on Indians of California and the Southwest. Sat. and Sun. noon to 5:00 p.m. Free admission. (323) 221-2164.
Vallejo Inter-Tribal Council
Mugg's Coffee Shop, Ferry Building, 495 Mare Island Way, Vallejo. Meetings are held every Wednesday at 7:00 p.m. Please call to confirm. (707) 552-2562 or (707) 554-6114.
Vallejo Naval and Historical Museum
April 4th–June 27th
Ohlone Elders and Youth Speak: Restoring a California Legacy.  734 Marin St, Vallejo, CA 94590
An exploration of the efforts of three generations of Ohlone people committed to keeping their cultures alive and thriving.  Documented through contemporary photographic images and oral histories the exhibition chronicles the on-going cultural revitalization process taking place within Ohlone communities.  It speaks to their struggle as landless peoples to keep ceremony, to protect their burial and other sacred sites, to ensure an accurate portrayal of their history and to the resurgence of their arts and language. It speaks to their vision of the future.  Join us! There will be several events taking place during this exhibition. The opening reception, dance, song, panel discussion, film showings, art displays (McCree-Goudeau Gallery) and an Ohlone language revitalization workshop.  We will be updating this event page as we progress with dates, times, and confirmations. Thank you for your patience. We hope to see you at the exhibit!   Event Dates & Times:  April 4, 2015, Soft Opening  April 11, 2015 Opening Reception
Voices of Native Nations
KPOO, 89.5 FM. Every 3rd and 4th Wednesday. One of the longest running and most complete records of Native American thought. Tune in for live performances, ceremonies, rallies, community events, and interviews with leaders, authors, and activists. www.kpoo.com